I have had this coins since I was a kid...over 30+ years now. Belonged to my father. He's from the Jalisco region of Mexico. Found it recently during a move.
One side reads "LUDOVICUS·I·DEI·GRA·" the other "HISPAN·ARUM·REX·" I believe it is a 1724, 4 escudos coin. But that's about all I know.
What can you tell me about it and is it worth anything?
Thanks,
Ref[img]
[/img][img]
[/img]
Sorry about the blurry pics. They were taken using my Droid.
Here's what I have so far: We've had a coin like this on our website before:
Here's what Paul said about it:
What a fantastic coin, Hans! It is one from the major leagues of numismatics (coin collecting). Old Spanish gold and silver coins played a giant role in the development of North, South, and Central America, and you can undertand this even today by noting the close correlation between sizes and denominations of modern coins and Spanish colonial coins.

Gold escudos and silver reales in 1/2, 1, 2, 4, and 8 unit denominations appear in American folklore with nicknames like gold dubloons and pieces of 8, and the denominations correspond roughly to our 5 cents, dime, quarter dollar, half dollar, and one dollar denominations even today.

You can add many of these coins to your collection for very reasonable prices. Hans coin, a large, well-preserved gold coin authenticated, graded, and encapsulated by ANACS, a respected third-party numismatic service, will cost you a bundle.

The CoinQuest forum is not for coin collectors, but for people who might become interested in coin collecting. As such, I am reluctant to hazard a guess at the value of Hans' coin, but it would probably retail in the $10,000 US dollar range, probably more, probably not less. A professional appraiser must be consulted, and that appraiser must see the coin in person to estimate a value.

If you like, Hans, use the Contact Us link to start an e-mail exchange and we will send you our list of Big Time national and international coin dealers.

The coins in our pictures are typical Spanish escudos from the era of Hans' coin. Robert Wilson Hoge has a superb article in the journal of the American Numismatic Society about Spanish colonial coins. Robert cites the main CoinQuest picture as coming from Mexico, Spanish King Philip V, gold 8 escudos "royal," 1729/7, assayer R over D. (collection of the Hispanic Society of America) 35 mm in diameter.

The secondary picture (with shaded background) comes from repsected Internet dealer Munzhandlung Ritter GmbH in Dusseldorf, Germany. Ritter is selling this (small) 1 escudo piece for about $2,500 US dollars, an excellent price for such a well preserved piece. From this price you can get an idea of value for well preserved Spanish escudos.

As always, with any valuable coin, you must be aware that conterfeits are everywhere. This is not a problem with Hans' coin, since it is certified by ANACS. You an view CoinQuest's tidy collection of counterfeits at this link.

CoinQuest thanks the ANS and Ritter for use of their coin photos. They are beautiful specimens!
Researching this coin:
An image: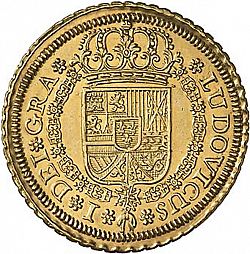 It has a 91.7% gold in it.
The Assayer name is: Fernando Vázquez o Vargas, and it should be 3.2CM wide.
I've emailed this link to Paul so that he can tell you what he thinks of it; from what I found out, if it's real, it can be worth more than $10,000 depending on condition.
Wow! Thank you for forwarding to Paul. Looking forward to his reply.

Ref
He's away until the 29th, after that, he should be able to reply. Keep your fingers crossed!
Nice coin, Refsan. It could be a real winner -- a real, real, real winner. Luis 1 reigned in Spain only for one year, 1724. The KM catalog reports a coin like yours in 1724, but does not include a picture, only a description. If your coin is a genuine 1724 Spanish 4 escudos, which it appears to be, the catalog does not even venture a guess at value. This is good. It means it is so rare that evaluating it is difficult.

The fact that you have had it for 30 years means it certainly not a modern counterfeit. This is another fact in your favor.

By far the most important things are:

(1) NEVER CLEAN A COIN. CLEANING RUINS VALUE
(2) Get an accurate weight for your coin.

For (2) above, take your coin to a local jeweler and ask him or her to weigh it to the nearest 0.1 gram. Don't let the jeweler do a 'gold test' on it. A genuine coin weighs 13.54 grams.

If your coin passes the weight test, please re-contact CoinQuest. I will send a photo of your coin to Rick Ponterio, the world-recognized expert on non-US coins. BUT -- the photo you have posted here is not good enough for Rick. I need large, in-focus photos of front and back. Find a photo-minded friend to get a good image. Photographing coins is a tough job, and it requires some expertise to get it done.

With an accurate weight and a reading from Rick, you will be ready for the happy job of deciding what to do with your very valuable coin.
Administrator





Posts

: 23


Join date

: 2010-07-08



I, myself am excited to hear the outcome of this. Most potentially rare coin I've ever seen here!
Similar topics
---
Permissions in this forum:
You
cannot
reply to topics in this forum